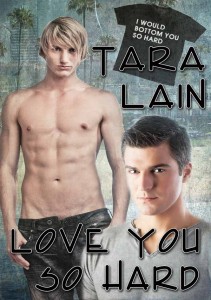 PHOTO DESCRIPTION:
The slim, taut torso of a young man from neck to hips wearing a T-shirt that says "I Would Bottom You So Hard"
STORY LETTER:
Dear Author,
I saw him at my local corner store when I stopped in for some soda after work. He was wearing that damn T-shirt and now I can't get it out of my head. I'm thirty-two years old and have never topped in my life. Guys seem to think I have a sign on my forehead that says "bottom only". The one time I asked, it didn't go well. But now it seems I see this kid, he's twenty if he's a day, everywhere, and that T-shirt text is burned in my brain. I wonder…
Can be any genre you like, and as explicit as you like. I'm not too fussy, but a first time top should be fun.
Yours truly,
Tam
STORY INFO:
Genre: contemporary
Tags: first time top, age gap, gaining self-worth, bottom you so hard, younger teacher/older student, beautiful boy
Word count: 20,237
Love You So Hard on Goodreads