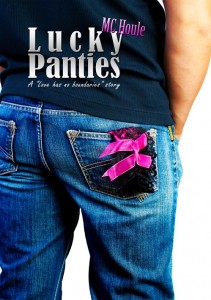 PHOTO DESCRIPTION:
A young man is standing against a mirror. He is only wearing a pair of pink panties.
STORY LETTER: 
Dear Author,
This boy likes to wear sexy women's underwear but it was his secret. He got caught out in a car accident by very manly, sexy, dominant rescuers. How did he get from there to "Property of xxx and xxx" tattooed on his ass after that fateful day?
If you really want a challenge― I would prefer if nobody cries (they can get angry and lash out instead or if they have to, cry in private), communication of feelings is difficult most of the time and the word love isn't mentioned or thought until it has absolutely beaten them over the head and it dawns on them that is what is going on.
I am a big believer in the generalization that men "show" their feelings before they "say" their feelings.
This was my contribution to the event last year but the story wasn't able to be completed so I'm trying again so it might look familiar… but it's not too much to ask, right?
Sincerely,
Jen McJ
STORY INFO:
Genre: contemporary
Tags: cross-dressing, submission, poly/mmm, friends to lovers, hurt/comfort, police
officer, doctor
Content Warning: attempted non-con
Word count: 18,050
Lucky Panties on Goodreads

PDF | Mobi | ePub
Review Lucky Panties on Goodreads