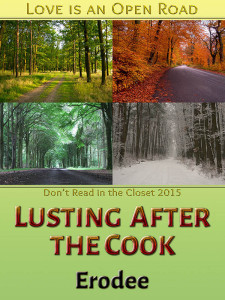 PHOTO DESCRIPTION:
A man dressed in black, hat backwards, is working at a Mongolian Grill as a cook.
STORY LETTER:
Dear Author,
There he is. Gods, I love it when he cooks. I wandered in here the second day that I was living in this wretched city. A block away from my apartment, the smells emanating from this Mongolian grill drew me in like a fly to honey. The food was decent, and I thought I might come here every once in a while when I didn't feel like cooking. Then I saw him. Hat on backwards, tattoos decorating his delectable skin, and the smile he gave me when I stepped up to the grill with my bowl of ingredients. *swoon*
It's been a month now, and I eat here every day. Either for lunch or for dinner, it doesn't matter to me. I think one of the waiters has realized why I come in. Whenever Darren isn't on shift, he gives a knowing smile and says, "I'll get you a menu, Stefan."

Names can be changed if necessary, but I'd like them to stay the same as in the prompt. I don't really have dislikes except I'm extremely picky when it comes to BDSM, so none of that for this story please. Likes (NOT necessary to include in the story, just a helpful list): Sexing, angst, sex, fantasy, sex, switch, sex, food/cooking, and sex. The rest is up to you, dear author. Feel free to contact me if you want more detail. P. S. I love teasers!
Thanks in advance,
Viv Ross
STORY INFO:
Genre: contemporary
Tags: culinary, college, new adult, tattoos, office worker, shyness, new in town
Word Count: 8,663
EVENT: Love is an Open Road
Lusting after the Cook on Goodreads
ePub | Mobi | PDF
Review Lusting after the Cook on Goodreads