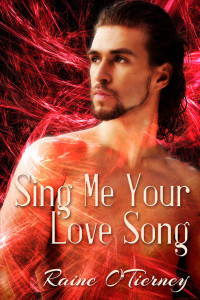 PHOTO DESCRIPTION:
In the first picture, a man leans back in an empty, white claw-foot bathtub. He's wearing a white ruffled skirt with stockings and heavy black boots. His eye makeup is vivid, and he's holding a cigarette. The second picture is of a man wearing an incredible amount of jewelry and a scowl on his face. He has dramatic cheekbones and a shock of white in his hair. He wears couture fashion.
STORY LETTER:
Dear Author,
These men are on their wedding night. They are wearing traditional attire according to their social/military/royal/world status. I want to know their story, and why is one of them hiding in a wash chamber. Is that a tattoo on his chest or did his husband brand him during the wedding ceremony? Why is the other so serious? Maybe he doesn't like all the jewelry?
I wonder about their world, time, professions, etc. Did they marry for love, or convenience? Maybe it was arranged, or were they drunk?
I want their love to grow, as well as their need for each other. I just want them to be happy, but you can tell their first time together will be passionate. You can see it in their eyes.
I'm giving them to you, dear author. Anything and everything will be good for them. If any non-con is involved, I'll prefer it happens off page. You can use any genre you prefer. And don't be shy, these boys can take anything from BDSM to mpreg― your imagination is the limit.
Thanks for loving them,
Lila Leigh Hunter
STORY INFO:
Genre: fantasy
Tags: bisexual, magical realism, first time, virgin, fate, soulmates/bonded, cross cultural, gypsy/traveler, family drama, in the closet
Word Count: 13,788
EVENT: Love is an Open Road
Sing Me Your Love Song on Goodreads
ePub | Mobi | PDF
Review Sing Me Your Love Song on Goodreads