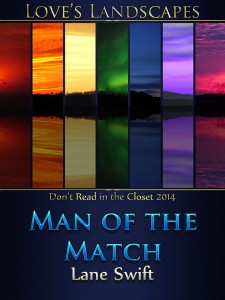 PHOTO DESCRIPTION: 
An athletic, tanned young man, wearing only boxers, sits on a sofa; his left hand is resting on a football. A second man, in a T-shirt, is kneeling down on the floor to one side of the first. His head rests on the first man's thigh, facing his erection, which he regards, as he holds it upright through the opening of the boxers. The moment appears tender and intimate.
STORY LETTER: 
Dear Author,

"Since that moment we figured out we were alike in more ways than the other boys in the locker room would ever know, we were inseparable. We even shared most of our 'firsts' together. But as it sometimes does, life pushed us in different directions after high school. Grad school will be hectic enough, but his appearance back into my life just might change my plans!"
These two guys look to have just finished playing/watching a 'rousing' game of football. They may have had to overcome a few obstacles to get to their current point of intimacy, but of course it was worth it for these two.
—I would love for this scene to appear at some point in the story. A bit of hurt-comfort would be nice but no extreme violence, BDSM, or cheating. I do not believe that this needs any paranormal elements either. If they have miscommunication please let it be short and easily straightened out. I would like to require it to have a HEA, and I am not against epilogues with time jumps to the future.

Thanks,

Ale
STORY INFO:
Genre: contemporary
Tags: high school, college, barely legal, first time, coming-of-age, sports
Word Count: 20,041
EVENT: Love's Landscapes
Man of the Match on Goodreads (NSFW)
ePub | Mobi | PDF
Review Man of the Match on Goodreads