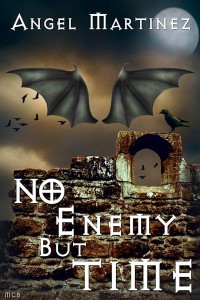 PHOTO DESCRIPTION:
A handsome, dark-haired young man, reclining on his side, admires and rests his hand on the beautiful curve of his lover's back. The viewer can't see the lover's face, but the gesture implies a tender and familiar fondness.
STORY LETTER:
Dear Author,
I wonder what is going to happen now that Michael lost his wings because of me. I still remember the first time he protected me when I was five and some brat pushed me in the playground. Everything slowed down and I landed softly on the ground, facing a beautiful face. Before I realized, time started moving and my teacher was running to check on me. I saw a beautiful angel standing across from me smiling. From that day forward, Michael was always there when I needed him.
As you see, he is still beautiful. These dimples in his back are the only evidence that he was my beautiful angel. Now, I love to look at him when he sleeps. I like tracing his back muscles with my finger to see them respond to me. For some reason, I feel something may be wrong around us. Everything has been perfect for us for the last ten years, but as the days pass I believe something is going to change.
I love Michael and I will do anything for him. He gave up his standing in heaven to be mine and now I would give everything to keep him safe. Please dear author, help me tell our story; most importantly help us to get our happy ending. We are a passionate couple and love to express our love for each other physically and in new and experimental ways. So feel free to let your imagination run free. Michael may no longer have his wings or standing, but I am Hades true son.
Sincerely,
Zagreus (my friends call me Zack)
STORY INFO:
Genre: urban fantasy
Tags: angels/demons/gods, fetish/toys, (brief) established couples, mythological references, mythical beings, gardener, bird rescue, disability
Content Warnings: some graphic violence, HoFN (Hopeful For Now)
Word Count: 19,124
EVENT: Love's Landscapes
This story has been removed at the request of the author.