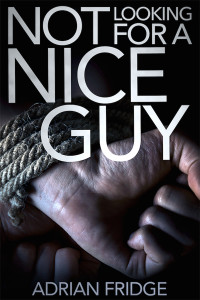 PHOTO DESCRIPTION:
A man in a combat uniform sits in deep contemplation, chin resting on his hand as he absently holds his rifle. Before him are two men on their knees engaged in sex. They've been going at it for a while, sweat dripping from their skin as the man on top holds his partner steady at the hips, caught between the watchful man and his rifle.
STORY LETTER:
Dear Author,
I have no idea what is going on in this picture, but I can tell you they are all enjoying it.
Please write a BDSM M/M/M story; can be AU, Dystopian or Contemporary. Have fun!
Thanks,
Bree Cheese
STORY INFO:
Genre: contemporary
Tags: poly MMM, double penetration, extreme BDSM, interrogation, orgasm control, rope play, breath play, humiliation, caning, rape play
Content Warnings: graphic violence
Word Count: 14,539
EVENT: Love is an Open Road
Not Looking for a Nice Guy on Goodreads (NSFW)
ePub | Mobi | PDF
Review Not Looking for a Nice Guy on Goodreads
At the request of the author, this story will

not

be included in the anthologies.