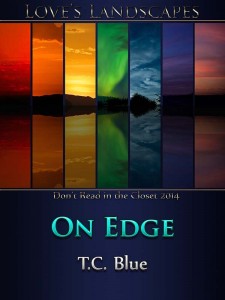 PHOTO DESCRIPTION:
Fan art of Dean/Castiel from Supernatural almost kissing beneath a streetlight against a cityscape backdrop.
STORY LETTER:
Dear Author,
~They are enemies.
Always have been. Always will be.
Nothing can change that. Nothing. ~
Something changes that.

Please write a contemporary enemies-to-lovers, slow-burn story with an HFN or HEA ending. There should be strong character motivations for hating each other and strong actions to help redeem their past wrongs.
The quote above should be included in the story.

Sincerely,

Anyta
STORY INFO:
Genre: contemporary
Tags: college, first time (sort of), enemies to lovers, rampant asshattery, frat house, men being stubborn, non-cheating promiscuity, past betrayal
Word Count: 50,756
EVENT: Love's Landscapes
On Edge on Goodreads
ePub | Mobi | PDF
Review On Edge on Goodreads