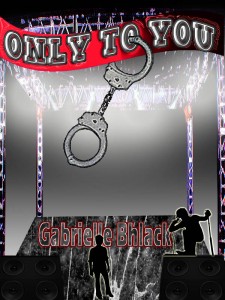 PHOTO DESCRIPTION:
Two attractive young men of Korean descent are facing each other, surrounded by blue pulsing lights. The dark haired man on the left is slim, but muscular and sporting several unique tattoos on his naked torso, above his skin-tight white jeans. He is gripping the reddish-brown hair of the second man while singing to him. That man is wearing a dark blue suit accented by silver sequins on his lapels and the belt over his jacket.
STORY LETTER:
Dear Author,
My name is ____ and I'm a singer. I'm well known and well respected in the biz, but I'm a very private man, which means that I tend to keep my status as a gay man on the low. I'm usually pretty good at keeping my life under wraps, especially since the entertainment company I have a contract with keeps me on a tight leash. I don't want the world to know that I'm gay because that would cause a lot of problems in my life, especially if people discover something that I'm just starting to find out about myself: I'm a submissive. I've never done anything about it, but I want to. I've read so much about it and watched so much kinky porn but I've never met someone that I'd trust enough to go that far with.
I've got a meeting coming up with my record label… They want me to meet up with someone to talk about maybe doing a duet but I'm dreading it. What if our styles aren't cohesive? I guess I'll find out tomorrow.
P.S. This contemporary story can have an HEA or an HFN, I'm fine with either one. The BDSM element must be sexy and steamy, but not too over the top. Thanks!!
Sincerely,
Erika K
STORY INFO:
Genre: contemporary
Tags: rock stars, in the closet, BDSM, new sub, coming out, Korean pop/K-pop
Word Count: 42,843
Acknowledgements
First I need to thank Erika, not just for creating such an intriguing prompt, but also for helping me get some of my facts straight as well as keeping in touch with me and just supporting me in general!
Since this is the first time I've written a story that's going to be read by people other than my m/m romance friends, I also need to thank my beta Donna and her daughter Mandy for their ideas, support, and amazing editing skills! Donna, you're more than my beta as far as I'm concerned, you're my co-author, and I would have cracked from the pressure months ago if it hadn't been for you and Mandy!
Thanks also go out to A.E. Vaughan for creating my wonderful cover! You helped to bring Kwan and Yun's story further to life! Thank you so much!
My thanks also go out to the members of the LL Support Group and the people who encouraged me to take on this story in the first place, Penumbra, Kelly, Roger, Eloreen, and many others. I'm sure you guys know who you are!
More thanks also go out to Leslie and Josh, thanks for your insight guys!
Of course, a big thanks to Raevyn for her support and patience!
THANK YOU ALL!!!
EVENT: Love's Landscapes
Only to You on Goodreads
ePub | Mobi | PDF
Review Only to You on Goodreads