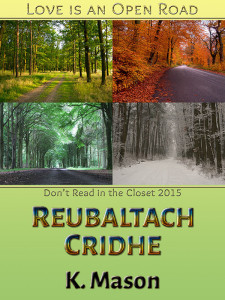 PHOTO DESCRIPTION:
In a wood, a young man wearing a green tartan kilt sits astride a dark bay horse. His brown hair is messy and he stares intently at something out of sight; he doesn't look happy. In his left hand he holds a claymore, horizontally, the blade above his knee. You can see that his knee is bare between his riding boots and the hem of his kilt.
STORY LETTER:
Dear Author,
As you can see we're in Scotland. The year is 1745 and the Jacobite rebellion spells disaster for the Highland clansmen who followed Bonnie Prince Charlie into battle against the English.
It's so not the right time for this man to fall in love which of course means that, inevitably, he does. But with who? A fellow rebel? An English soldier? A man from a rival clan?
I leave the details in your capable hands, dear Author, but if you could find room in your story for a couple of Gaelic endearments and that fabulous horse he's riding, I'd be thrilled.
Could you please make sure that my lovely highlander finds happiness― even after Prince Charlie has fled the blood-soaked battlefield at Culloden.
Sincerely,
Astrid
STORY INFO:
Genre: historical
Tags: soldiers, Scotland, enemies to lovers, deserters, low sex content, hurt/comfort, kilts
Word Count: 20,651
Acknowledgements
Firstly, thank you to Astrid for putting the prompt together. I hadn't intended to write a historical story for this year's event, but this just grabbed me. I hope I've done justice to the story you wanted.
Thank you as always to the DRitC organisation team and the volunteers who work so hard behind the scenes to put the event together. In particular, thanks to Debbie, my editor for this year's event.
Without a lot of people this story would not have been written, but particular thanks go to the online support group of whip wielders and cheerleaders in the M/M Writers Group. To Kat, Elci and Kaje for bravely reading the very first draft and helping me make the story so much better. And finally, to my friend Rachel, who has been listening to me wail about my writing for the last ten years, yet continues to encourage me and has bravely taken to beta reading M/M romance even though she doesn't read the genre herself.
EVENT: Love is an Open Road
Reubaltach Cridhe on Goodreads
ePub | Mobi | PDF
Review Reubaltach Cridhe on Goodreads