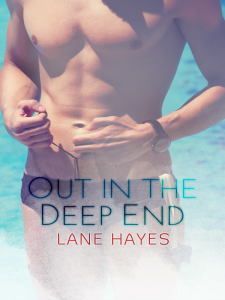 PHOTO DESCRIPTION:
Two fierce competitors lunge up out of a pool of placid water, only their bare torsos showing. Their athletic bodies are bronzed and toned, and each of them wears a swim cap. They face each other, reaching up with arms extended aggressively. One player holds a ball in his left hand while the other, facing him, moves to block with his right hand. Their actions send sprays of water, foaming about them.
STORY LETTER:
Dear Author,
My water polo team is the most LGBT friendly team on campus. Literally half the team is queer and it's ok, you can be jealous. One of the reasons I was hella excited to come here, ha! But I don't care about the rest of the team right now, because all I can think about is this new freshman with the mad skills. Zev.
He has this gorgeous lob shot and makes our intense practices seem effortless. I swear if I hadn't just played an entire game, I would have gotten hard at the backhanded skip shot he scored last week. Seriously. It was amazing. And why does Zev have to be just as stunning out of the water? He's all dark hair and heavy brows and these hazel eyes that make me stutter like a fool.
I don't know why he's warmed up to everyone on the team but me. I'm the main driver, and he's a leftie, so we should clearly work together… I mean, aside from the fact I want into his pants.
Fuck it.
This is California, and it's college― it's pretty much the definition of fun. So what happens when we're assigned roommates for the three-day tournament in Long Beach?
Sincerely,
Onyx
STORY INFO:
Genre: contemporary
Tags: college, athletes, water polo, first time, coming out, humorous, slow burn/UST, rivals to lovers
Word Count: 14,072
EVENT: Love is an Open Road
Out in the Deep End on Goodreads
ePub | Mobi | PDF
Review Out in the Deep End on Goodreads