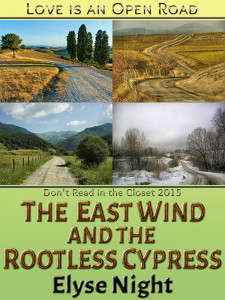 PHOTO DESCRIPTION:
A young man is crying, war paint streaked down his face. He is clutching a sword, and there is a blue tattoo around his visible bicep.
STORY LETTER:
Dear Author,
I've been watching him for what seems like forever. I hate him. The need to kill him burns like acid in my veins. But when I come to do the deed, this is what I see, and I find that I cannot end his life.
Fantasy or sci fi, please. Other than that, go for it.
Sincerely,
Jaye
STORY INFO:
Genre: fantasy
Tags: enemies to lovers, shifters non-wolf, sweet/no sex, action/suspense/adventure, magic users
Content Warnings: violence, genocide
Word Count: 7,717
EVENT: Love is an Open Road
The East Wind and the Rootless Cypress on Goodreads
ePub | Mobi | PDF
Review The East Wind and the Rootless Cypress on Goodreads