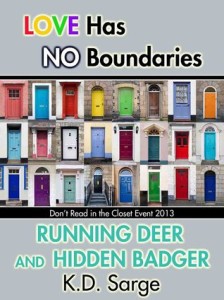 PHOTO DESCRIPTION:
Two young men in white T-shirts snuggle contentedly, asleep together in a narrow bed. Both are fit and tanned, as if they work outside a great deal.
STORY LETTER:
Dear Author,
I didn't want this at first. I don't want to be vulnerable. I don't want to be weak. I don't want to lose myself.
But I'm here with him now, and I just feel so… safe.
I know it's not on the picture (I couldn't find one that fit what's in my head) but if you give the boyfriend/love interest/whatever we call him long hair I'll be ever so happy. If you make him Native American I'll send millions of virtual kisses your way 🙂
Sincerely,
Astrid
STORY INFO:
Genre: contemporary
Tags: cowboys, sweet no sex, young adult characters, western, slow burn, hurt/comfort
Word count: 46,494
Running Deer and Hidden Badger on Goodreads

PDF | Mobi | ePub
Review Running Deer and Hidden Badger on Goodreads