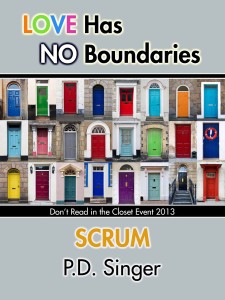 PHOTO DESCRIPTION:
A heavily muscled, bare-chested man stands in profile in a steamy room, his head turned to three-quarters profile. His chest is slightly furry, his brunet hair long enough to brush his shoulders, his chin cleft, and his features strong. He stares a challenge at the observer through slitted blue eyes, and he's holding a rugby ball.
STORY LETTER:
Dear Author,
I am there for every game, eyes focused on one player alone. My heart speeds up as I watch his hair fly and legs pump as he races down the field. My sweat beads and falls down my back in tandem with his the longer the game continues.
Today is the day. It's my birthday, and I promised myself that I would gather the courage to introduce myself, to be close for even a moment and who knows what might happen? I can dream, can't I?
Sincerely,
Melanie
STORY INFO:
Genre: contemporary
Tags: athlete, masturbation, slow burn/UST, coming out, sports, rugby
Content warnings: vanilla alert, HFN
Word count: 10,311
Scrum on Goodreads

PDF | Mobi | ePub
Review Scrum on Goodreads