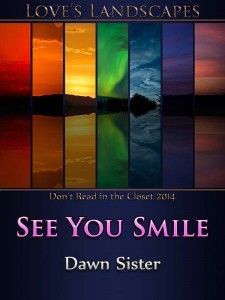 PHOTO DESCRIPTION:
A young man with slightly disheveled, light blond hair sits, balanced precariously on a balcony rail in dappled sunlight. He is wearing only a towel and is looking at and reaching down to something behind him. His chest and stomach are smooth and well-toned. He is slim and not overly muscular. His hair is covering his face hiding his expression, adding an air of mystery. There is a hint of a smile on his lips.
STORY LETTER:
Dear Author,

I've watched him for weeks. I feel like a creep, I hide behind the plants on my balcony. This young man could be my son. He is always so earnest, careful and alone. Does he not have friends? Why does he seem so introvert? I want to see him smile, I want to see him laugh.
Something isn't right and I want to know it.

Yours, the mature man from the apartment next door

I'd love this to be a May/October romance with a HEA; the young man is deaf. A bit of pain is okay in the beginning but I really want a lot of humor, perhaps also based on the age gap.

Sincerely,

Sunne
STORY INFO:
Genre: contemporary
Tags: age gap, disabilities, humorous, over age 40, hurt/comfort, writer, family drama, switch/versatile, widower
Word Count: 73,019
Acknowledgements
I would like to thank Sunne for the lovely prompt, Suki for being so awesomely supportive and Raevyn for trawling through my terrible punctuation and making it all better.

Thank you, I love you all.
EVENT: Love's Landscapes
See You Smile on Goodreads
ePub | Mobi | PDF
Review See You Smile on Goodreads