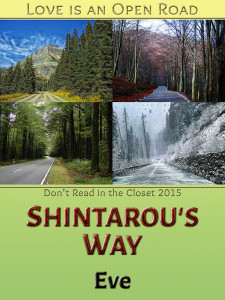 PHOTO DESCRIPTION:
The photo is a manga picture of a shaggy-haired boy in a collar clutched in the arms of an older man. They both wear winter coats. While the man's expression is one of smiling possessiveness and a certain degree of smugness, the boy has a wide-eyed look of startlement and seems a bit taken aback; however, his arms are around the shoulders of the man and his fingers are twisted in the man's coat. There is a sense of homecoming and of finding safe harbor.
STORY LETTER:
Dear Author,
In a city full of real monsters, it's easier to be invisible, overlooked, than to draw attention to myself. Especially since I was alone with no family or friends. I won't trust anyone, not ever again. That's why I spend my days by myself, impersonating a lost dog.
My plan was perfect. At the very least, it made survival easy. But lately, a vampire has been coming by my alley to bring me food. I swore I wouldn't trust anyone ever again. But then, why do I get the urge to follow him home?
Sincerely,
Enne
P.S. I'd love some BDSM with pup play thrown into the mix.
STORY INFO:
Genre: paranormal, alternate universe
Tags: puppy play, BDSM, Feudal Japan, vampire, shifters non-wolf/cat, interspecies
Word Count: 5,929
With many thanks to my awesome beta readers, Emma Sea and Ery, and to the wonderful collaborators in the MM Romance Group who helped edit, proofread, format and publish this story.
EVENT: Love is an Open Road
Shintarou's Way on Goodreads
ePub | Mobi | PDF
Review Shintarou's Way on Goodreads