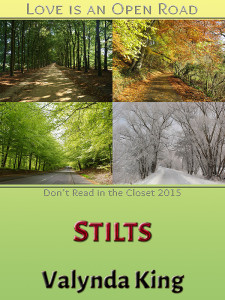 PHOTO DESCRIPTION:
Long legs, encased in leather tight enough to be skin. Black six-inch stilettos boots. Topless with creamy smooth skin. I cannot see his eyes but he looks lonely. Like the world sits on his shoulders.
STORY LETTER:
Dear Author,
Yeah, I like to wear women's heels… so what? So what if I like to dance in them. Who is that hurting exactly? Why does he tell me I look like a freak when I dress looking like this? What the hell does he know anyway? I'm hot! When I dance in these heels, men can't take their eyes off of me. It's true, damn it! So why can he? Why can he look away? Judge me. Leave me.
All I want to do is dance. For him… and love… him. Why can't he love me like this?
Thank you!
Sincerely,
Sammy Goode
STORY INFO:
Genre: contemporary
Tags: crime, mystery, dance, detective, aphasia, interracial
Word Count: 13,308
EVENT: Love is an Open Road
Stilts on Goodreads
ePub | Mobi | PDF
Review Stilts on Goodreads