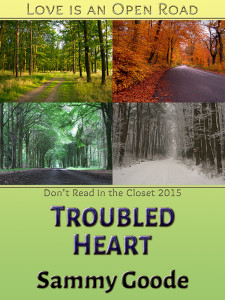 PHOTO DESCRIPTION:
Two men, with both passion and anger in their eyes, stand pressed together. The taller, broader man is holding the other tightly while pushing him against the wall. His one hand is wrapped around the smaller man's forehead, his face leaning in as if to whisper in his ear. There is such tension in this picture. The taller man's face is full of raw need and desire, which is obviously warring with some deeper hidden emotion.
STORY LETTER:
Dear Author,
I hope you see that same thing I see when I look at this picture. The love and passion is so obvious. But I also see fighting in their expressions.
I would love to see a HEA, but not historical or sci-fi, and please, no rape. Other than that, whatever you want.
Sincerely,
Lynnette
STORY INFO:
Genre: contemporary
Tags: bears, enemies to lovers, grief, hurt/comfort, smaller top, tearjerker, twinks, widower
Word Count: 30,258
EVENT: Love is an Open Road
Troubled Heart on Goodreads
ePub | Mobi | PDF
Review Troubled Heart on Goodreads