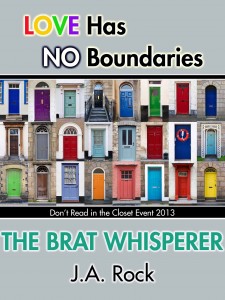 PHOTO DESCRIPTION: 
Image of a young man looking off into the distance with a tear running down his face.
STORY LETTER: 
Dear Author,
He's alone— so alone. How did his life come to this? And who's going to help him find his way?
Please let this be contemporary with no paranormal elements and an HEA. Other than that, anything goes.
Sincerely,
Becca
STORY INFO:
Genre: contemporary
Tags: BDSM, domestic discipline, hurt/comfort, poly-mmmm, spanking, nerdy trading card games
Word count: 18,757
The Brat Whisperer on Goodreads

PDF | Mobi | ePub
Review The Brat Whisperer on Goodreads