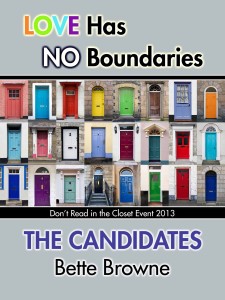 PHOTO DESCRIPTION:
Black and white, two sexy twenty-somethings in suits. The slightly shorter man is reaching up to kiss other, and his left hand, just hovering over taller man's collar, is tentative. There is an uncertainty there, but an obvious desire. You can almost tell he is wondering whether he is doing the right thing.
STORY LETTER:
Dear Author,
After hating each other as college rivals, now they meet again at a job interview and it is not hate sparks that are flying now.
Or whatever you can come up with… enemies to lovers… please HEA!
Sincerely,
Kimberly

STORY INFO:
Genre: contemporary
Tags: rivals to lovers, businessmen, two alpha males, reunited
Word count: 17,313
The Candidates on Goodreads

PDF | Mobi | ePub
Review The Candidates on Goodreads