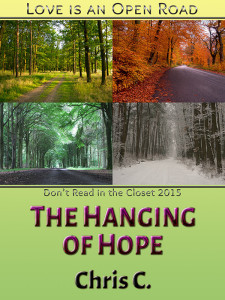 PHOTO DESCRIPTION:
A blond man stands behind a barbed-wire fence and looks at something in the distance. He looks to be in his forties and wears a dirt brown uniform, solemn-faced. Behind him are two blurred, grey buildings.
STORY LETTER:
Dear Author,
He is standing at the barn doors, watching the quiet fields and the sheep on the hills. He rarely speaks apart from a curt "thanks" for the cold water I bring him when the sun is at its highest, and the fresh bread I share in the evenings, and the mugs of weak tea, eeked out of my dwindling supply of precious leaves. Not that he doesn't understand English, but he is a proud man, despite his status of prisoner-of-war, and he knows what is coming: his repatriation to Russia.
I want to tell him he can stay here, that he will be safe, but I can't, and he returns to his sweeping. The floor of my barn is cleaner than I can remember. And I have lived here all my life, as son and brother and then owner, too old to fight. A solitary life from choice.
I wonder about him. And he glances over at me and for a moment I see the look in his eyes. His understanding of who, and what I am.
In three days they will be coming for him.
HEA/HFN not obligatory, but I'd welcome a HEA― if possible. English setting, end of WWII. I would be satisfied without any sex, but if you add sex, make it low-key, not porny, and perhaps fade-to-black, rather than detailed. No twinks or BDSM, please. I'd like to see how these two men share a brief moment of happiness.
Sincerely,
Emerson
STORY INFO:
Genre: historical
Tags: post-WWII, Britain, over age 40, prisoner of war, non-explicit
Content Warnings: no HEA/HFN
Word Count: 4,131
EVENT: Love is an Open Road
The Hanging of Hope on Goodreads
ePub | Mobi | PDF
Review The Hanging of Hope on Goodreads