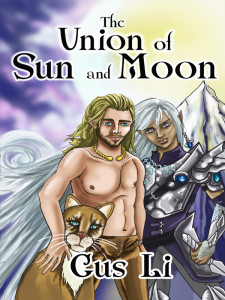 PHOTO DESCRIPTION:
Anime-style digital painting of a silver-haired warrior/prince with weapons and armor.
STORY LETTER:
Dear Author,
A beautiful warrior elven prince meets a shifter (also a prince or an alpha, and any kind will do).
Please include some battle scenes, a little jealousy involving a third party, and an HEA. No BDSM. Thanks.
Sincerely,
Araceli
STORY INFO:
Genre: fantasy, paranormal
Tags: royalty, soldiers, shifters, magic, sorcerers, culture clash, spirits, captivity, dark
Content Warnings: battle violence, death of secondary characters, torture, non-MC self-harm
Word Count: 49,178
EVENT: Love is an Open Road
The Union of Sun and Moon on Goodreads
ePub | Mobi | PDF
Review The Union of Sun and Moon on Goodreads