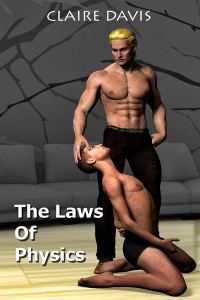 PHOTO DESCRIPTION:
There are two men in a playroom. The first man― Master― sits naked and erect with his legs spread. He is a vision of physical perfection and male beauty. He holds a riding crop and nonchalantly watches his pet. The other man― Puppy― is on all fours wearing a leash, muzzle, and chains. He has a tail butt plug and is facing Master, with his head down in a submissive pose.

On the floor around them are many mouse traps which have been positioned in a game. Puppy must get past them safely, without making them snap, in order to get to his Master's bone.
STORY LETTER:
Dear Author,
A Master sits with his back against the wall with a waiting "bone" for his pet. However his pet must make his way across the floor covered in mouse traps without getting caught in order to get his bone. They've been here for hours playing this game. It's been a slow go and the Master's pet has been unsuccessful in his first two attempts. What lead up to this wicked game? Is the third time the charm? Does puppy get his bone and a reward at the end? Please say yes! He's tried to be a good boy.
Sincerely,
JennM
STORY INFO:
Genre: contemporary
Tags: sex industry, fetish/toys, hurt/comfort, humorous, age gap, first time, geeks, social anxiety, water sports, off-page assault
Word Count: 19,929
Dedication
"The owl and the pussy cat went to sea in a beautiful pea green boat…" Edward Lear

This story is dedicated to my elegant fowl, for twenty years of floating on that ocean…

A special thank you to V.W. Singer for creating such a perfect front cover.
EVENT: Love's Landscapes
The Laws of Physics on Goodreads (NSFW)
ePub | Mobi | PDF
Review The Laws of Physics on Goodreads