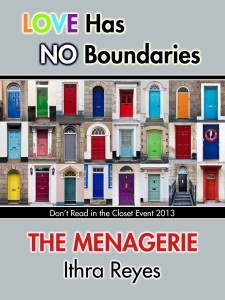 PHOTO DESCRIPTION:
A young green-eyed man in an oversized brown sweater holds a small tiger cub.
STORY LETTER:
Dear Author,
A big thank you to Kim Alan for all her help, you are very kind.
He'd spent the day at the crappy little traveling zoo, but he'd spent it with his little brother, which got the little guy out from under "Uncle Larry's" thumb for the day, so it was totally worth it. Plus, he'd really been hung up on those cats. He loved cats. Not exactly one of his more manly attributes according to Larry, but whatever. He was drawn to them. Understood them, with their solitude and quiet strength.
However, he was not expecting to return to his car, after dropping his brother at home, to find a tiger cub sitting on his front seat. Stunned, he just stared at the little guy who just stared right back at him. He remembered seeing him scampering around the cages, trying to catch the interest of the big cats, but how in the hell had he gotten into his car? And what the hell was he supposed to do with him now? That traveling zoo had been packing up even as they left. Besides, something about that place had felt… off.
He did the only thing he could think of, at least once the cat nudged his hand towards the steering wheel, snapping him out of his stupor. He took him home, to his little studio apartment over the hardware store. He pulled into the parking lot and the cat climbed right into his lap to be carried inside. He was purring so loud, looking at him so adoringly, like he was his hero, or something. Taking the little one inside, he plopped into his third hand recliner, and petted, cooed, and soothed the cub until they both relaxed. He was thinking that this was maybe the strangest night of his life. And then, things got really weird.
The prompt can be changed around, no BDSM, M/F and preferably no shifter please, but I will accept it, if there is no other choice. Also can the kitty cat have a major role. HEA is a must, thank you.
Sincerely,
Vio

STORY INFO:
Genre: contemporary
Tags: enemies to lovers, interracial, flamboyant character, workplace, non-explicit
Content warnings: HFN
Word count: 5,699
Dedication 
Thanks to Jen for having patience with me, to my wonderful event editors for making the story legible, to Vio for the inspiring prompt, and everyone who helped make this awesome event happen.
The Menagerie on Goodreads

PDF | Mobi | ePub
Review The Menagerie on Goodreads