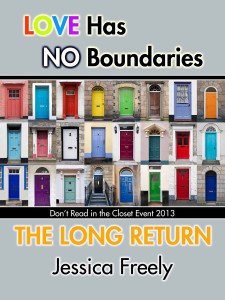 PHOTO DESCRIPTION:
A stunning African American man in a stylish suit looks over his shoulder at us. He has an oval face with high, chiseled cheekbones, hooded eyes, and full lips. His hair is cropped close to his head. He is frowning slightly and in the depths of his liquid eyes is an expression that could be lust, longing, or reproach.
STORY LETTER:
Dear Author,
We've been best friends for so long. He knows my pains, fears and the little things that bring me delight. One day, I caught him, staring at me, with that look on his face. The very next day, he was gone.
It's been fifteen years, and now he's back. Self-made and self-assured.
Why did he take off all those years ago? What could he want from me?
Sincerely,
Alessandra
STORY INFO:
Genre: contemporary
Tags: LGBT Youth Center, African American, long-lost lovers, community activism, at-risk youth, reunited, homophobia, in the closet
Word count: 11,037
The Long Return on Goodreads

PDF | Mobi | ePub
Review The Long Return on Goodreads