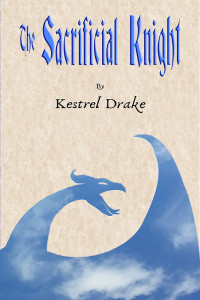 PHOTO DESCRIPTION:
Through the mist-swept streets of the capital city, a young knight leads a dragon on an enormous pair of reins. Though the creature towers over the knight, it follows willingly, its intense blue gaze focused on the man who looks back over his shoulder, the connection between them intense and undeniable.
STORY LETTER:
Dear Author,
Remind me why I'm doing this?
Walking through the not-surprisingly empty streets of Dorbarra behind a man holding reins. My reins? Like I'm one of those stupid sirit that humans use?
I could breathe on him and poof! bits of ash drifting in the morning mist.
He's barely longer than my forearm. I could curl my claws around him, lift and snack. Though probably not. Great-great-great-Aunt Grnvlia had one once during an attempted hoard heist, and she said the rumors are wrong. They don't taste like chicken. At all. Nasty after-taste, too.
I could raise my head, yank him off the ground, shake, and see how far he'd fly before bouncing off… something-or-other.
I could stand tall, walk forward two fast steps and drop. His king's street sweepers would have something to sweep… or mop… up.
I could… shift. Rip my clothes off. His. Bend him over and fuck him here and now. Or perhaps not in the street. Humans are so touchy about public displays of affection. But there's a nice, shadowed alley over there. No one would notice. Much. Though they'd hear his howls of pleasure. And mine.
If I could do all that, and I so easily could, then why…
Oh.
Fantasy. Dragon shifter. Sex, please. Humor would be nice, too.
I hope someone will want to have fun with this.
Sincerely,
Eric (of the Alan Westfall variety)
STORY INFO:
Genre: fantasy, alternate universe
Tags: shifters non wolf/cat, first time, smart-mouthed dragon shifters, virgins, knights, telepathy, a touch of magic, steamy hot loving between a dragon shifter and his virgin
Content Warning: hints of off-page rape
Word Count: 34,666
Dedication
For my mother, who always wanted to see something of mine in print; and who, when I received a lovely coffee table book about dragons for my birthday a few years ago, said, "You still really like that stuff, don't you?" with a baffled look on her face. Yes, Mom, I still really like that stuff. So be careful, because here, there be dragons!
Acknowledgements
To Eric (of the Alan Westfall variety), for giving me "the boys," and for The Prompt. Those words were what made me fall in love with the dragon. They took root in my mind, gave him a voice, and made him live for me. I hope I have made him live for you, here on the pages of this story. And thank you, Eric, for being the kind of mentor an unpublished (but hopeful) writer can only imagine in her wildest dreams. You, sir, are my hero.
To Robert, Melody, Ryan, and Frances, for proofreading at the drop of a pin, sometimes into the wee hours of the morning― particularly Robert, for brainstorming with me when I was just stuck, and Melody, for her keen eye and meticulous attention to detail.
To my family, for their patience while I was lost in the writing cave.
Last, but not least, my thanks to the many writers who participated in previous DRitC events. Without you, I never would have found the Goodreads M/M Romance group, which has been one of the greatest treasures a reader or writer could discover.
Author's Note
Music has always been an important part of my life. I was in choir and dance from grade school on. When music isn't playing on some device in my vicinity, it's playing in my head. When I finish a book that has really touched me, I always wonder what music the author listened to while writing it. For those of you who think along those lines, here's a list of the music that helped my dragons to fly and my knight to risk everything for love:
Shinedown "Fly From the Inside"
Foo Fighters "Learn to Fly"
Creed "My Sacrifice"
Collective Soul "Shine"
Slash "Bent to Fly"
Soundgarden "Fell on Black Days"
Incubus "Wish You Were Here"
From the Moderators
Due to unforeseen circumstances, Kestrel Drake was not able to complete the editing with the event team. Only significant spelling and punctuation errors have been corrected.
EVENT: Love is an Open Road
The Sacrificial Knight on Goodreads
ePub | Mobi | PDF
Review The Sacrificial Knight on Goodreads