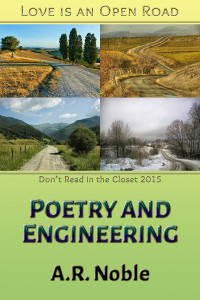 PHOTO DESCRIPTION:
An adorable young man shyly hides his mouth behind his hand. His dark, spiky hair and three days' beard growth contrast with his amazing green-gray eyes. Maybe he's flirting, maybe he's considering his next move.
STORY LETTER:
Dear Author,
He arrived this morning. With his gentle smile, his soothingly low, confident voice, and a sort of feline grace and nonchalance, he calmly won everyone over, very quickly. Me? Can't say I'm a people person. So unlike the new guy there, I don't do crowds, or friendly chit chat. I was even told once "you're lucky you're cute" (oh boohoo, like I cared what they thought. Only my friends get to know the real me). Still, couldn't he at least notice me???
Wait… that came out wrong. I'm not into men. I just haven't found the right woman yet, that's all. I'm not looking at his dishevelled hair, or at his strong arms that could so easily pin me against the wall and… WHOA! I did not just think that. And I'm not still looking at him, like a mor― He's staring right back at me. Blatantly.
And with his gaze now burning with both amusement and lustful hunger, he looks like a cat who found his prey. Except I'm no defenceless mouse. He may be stirring all kinds of scary feelings in me, I'm never ever going to act on them. He'll give up long before I do.
So Dear Author, how does this feisty mouse get caught?
Can I please have plenty of sexy tension, slow build from lust to HEA love, and a long wait for a wild sex scene not in a bed.
No supernatural, instalove, non con, or hardcore BDSM.
Thank you!!!
Caroline
STORY INFO:
Genre: contemporary
Tags: construction workers, civil engineers, slow burn, men with pets, gay for you
Word Count: 11,139
Acknowledgements
To the ever-patient and long-suffering DRitC team, thank you. And my amazing beta readers Karen Ceeder and E. A. Westfall, can't work without you. Also to the extremely generous Arnel Naciemento for his deets on a pilot's life; and to Thaddeus J, for intel on life as a Marine family and explanation of Marine careers. And Secretxxangel for her prompt. All of you rock!
EVENT: Love is an Open Road
Poetry & Engineering on Goodreads
ePub | Mobi | PDF
Review Poetry & Engineering on Goodreads