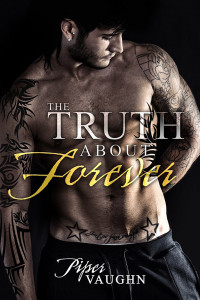 PHOTO DESCRIPTION:
A muscular man sits on his haunches, his lower back and buttocks braced against a stone wall. He's bare-chested, wearing sports pants and running shoes. His entire left side is covered in tattoos, the most visible one being the word "forever" on his rib cage.
STORY LETTER:
Dear Author,
He told me it'd be forever, a forever I had permanently inked into my skin. I thought I'd always want the reminder of a love as incredibly perfect as we had together. The passion and our connection was overpowering, but apparently his idea of forever and mine were two different things. Yet, no matter how painful it is I haven't been able to let go of the memory of him in my heart. I'm trying to live my life again, trying to find a rhythm in a world that doesn't seem to balance for me anymore. I've covered more and more of my body in the tattoos of a life lived, but somehow even though I've surrounded it with other images, I can't quite make myself cover up and paint over that one word.
Note: I love reformed bad boys, more than a little snark, and a HEA is definitely a necessity. Everything else is up for grabs and have some fun. I can't wait to see what you come up with!
Sincerely,
Shelby
STORY INFO:
Genre: contemporary
Tags: second chances, chef, blue collar, military men, multicultural, reunited, tattoos
Content Warnings: mentions of drug use (not shown)
Word Count: 16,195
Author's Note
Thank you to Natasha Snow for the fabulous cover, my beta readers for their invaluable help and advice, and all the volunteers in the M/M Romance Group who helped organize and run this event. This is dedicated to Shelby. Thanks for the awesome prompt. Hope you enjoy the story!
EVENT: Love is an Open Road
The Truth About Forever on Goodreads
ePub | Mobi | PDF
Review The Truth About Forever on Goodreads
At the request of the author, this story will

not

be included in the anthologies.