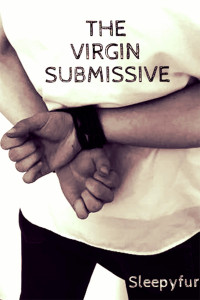 PHOTO DESCRIPTION:
A young man lies on a bed with his hands bound behind his back with rope while another man perches above him. The bound man's shirt lies open and his expression shows he is nervous and maybe slightly afraid. The man on top looks like the cat who got the cream and is clearly turned on and ready to do sinful things.
STORY LETTER:
Dear Author,
It happened the third day of school. My new roommate turned to me and said, "I want you to kneel for me." He didn't ask, or joke, or explain. He just smiled like he knew exactly what would happen. And I… I obeyed, dropped down to my knees before I even thought about what I was doing. I'd never done anything like that before, for anyone. It didn't seem like such a big deal. It wasn't a big deal― at least it didn't have to be, did it? And maybe it wouldn't have been except I didn't understand why I obeyed.
I didn't understand that saying yes that first time meant that when he asked the next day that I take my shirt off, I wouldn't say no to that either.
Or the next day when he ordered me to lie still while he tied me to the bed…
Thank you,
Lilia
STORY INFO:
Genre: contemporary
Tags: college, bondage, virgin, submissive, dominant, BDSM, first kiss, new adult, first time, twink, roommates
Word Count: 15,447
EVENT: Love is an Open Road
The Virgin Submissive on Goodreads
ePub | Mobi | PDF
Review The Virgin Submissive on Goodreads