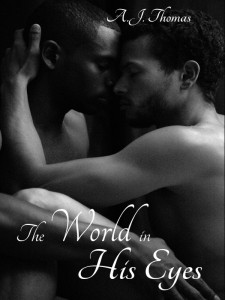 PHOTO DESCRIPTION:
A screenshot of a chat session from an online dating app. The conversation is one-sided, opening with a compliment, then a selfie of a grinning young man with dark skin and a charming smile. His last message begins by announcing his race like a disclaimer: "It's okay if you're not into black guys… a lot of people on here aren't."
STORY LETTER:
Dear Author,
Larry is a flirt and a sweet guy under a bit of swagger. He is tired of one night stands and wants to find a real relationship but he has a hard time staying away from the hook-up sites. Because… sex. Larry feels the sting of being rejected automatically because of his race. But he still has a positive attitude and rolls with the punches. He won't ignore elephants in the room, however; which sometimes leaves people uncomfortable.
"Beautiful eyes" is a snarky, young, driven professional who won't be guilted into making a connection. He isn't even looking for Mr. Right… but he likes Larry's open face and broad shoulders and is charmed despite himself. Will "Eyes" give Larry a chance when his friends (or colleagues, family) seem less than enthusiastic? Can he grow up enough to accept a relationship that requires some work and commitment?
Can Larry set aside his patter and flirtatiousness enough to let "Eyes" see the sensitive guy hiding?
Please no BDSM.
Sincerely,
Kimberly
STORY INFO:
Genre: contemporary
Tags: in the closet, coming out, medical personnel, computer programmer, interracial, grief, geek, men with pets, tearjerker, hurt/comfort
Content Warnings: secondary character death
Word Count: 44,449
Acknowledgements
Big thanks to Kimberly for her inspiring prompt, and to Kaje Harper, Jean McComb Partlow, and Aga Górszczak for helping to make this a stronger story.
EVENT: Love is an Open Road
The World in His Eyes on Goodreads
ePub | Mobi | PDF
Review The World in His Eyes on Goodreads