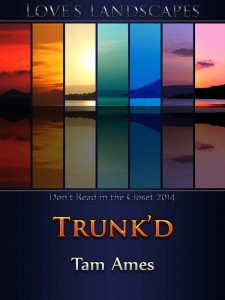 PHOTO DESCRIPTION:
Two pictures of two men― one, a young man with a sleeve of tattoos and thick hair wearing a dress shirt and suspenders; the other, an African-American man with a goatee. The African-American is a police detective, and the young man is an accountant who found a body in the trunk of his car.
STORY LETTER:
Dear Author,
There is a dead body inside the trunk of my car…
I can't believe this― I leave my car at the airport and when I return from my 3-day trip and am going to put my luggage, there is a dead body in it. It is the body of a senator's son who has been kidnapped several days before. Suddenly, I have a homicide detective asking me questions and reporters trying to get a story from me and the senator making grief phone calls― and not to mention the kidnappers who somehow think I could help the Police Department break this case. How this is my life? I'm just a boring accountant. How the heck could I get out from this mess?
And how can I land a date with the brooding homicide detective who works this case? Uhm, yeah, so this last one, might be a wishful thinking but darn, he's dreamy…
Notes:
I imagine this would fall in the lighter or with humor contemporary story, despite the dead body. Please make the detective African American. The accountant should be white, nerdy guy. No insta-love, please.
Sincerely,
JustJen
STORY INFO:
Genre: contemporary
Tags: interracial, police, accountant, murder mystery, tattoos, HFN
Word Count: 13,535
EVENT: Love's Landscapes
Trunk'd on Goodreads
ePub | Mobi | PDF
Review Trunk'd on Goodreads