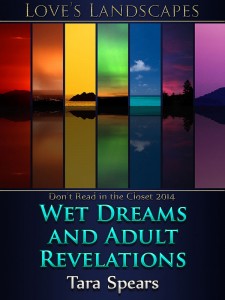 PHOTO DESCRIPTION:
That's me, with all the tattoos, at my twenty-first birthday party. The guy next to me is my best friend, Josh, and the one taking the pictures… let's just say I have a bit of a crush on Eric, and I know I shouldn't. He's only seventeen after all, but he drives me crazy with the way he looks at me, like he'd ravage me given the chance. God, I hope when he's legal, I can give him the chance to do just that.
STORY LETTER:
Dear Author,

Do you see the black man on the end? The one with all the hot tattoos? We used to be co-workers at a fast food place when I was in high school. He was a little older than I was, so he was the assistant manager and I was just a skinny white kid. I had such a crush on him and he was so sweet to me. We even went out one night with a group to celebrate his twenty-first. I wasn't twenty-one yet, but that's never really stopped anyone, has it? After I graduated I moved away and I figured I would never see him again. Recently I moved back to my old town and one morning I visited the local coffee shop, surprised to find it remodeled and with a new owner, my old assistant manager. He's still got that great smile and now I'm old enough I'm ready to make a move.
Tell me what happens when we reunite and give us our HEA.

Sincerely,

Shanna
STORY INFO:
Genre: contemporary
Tags: sweet, first time, interracial, tattoos, barista, engineer, family drama, reunited
Word Count: 14,747
Acknowledgements
Thank you for the lovely prompt Shanna, I hope I did it justice. A special, heartfelt, thank you to the M/M Romance group, and the faithful, ever-fabulous volunteers who donate their time to put this event together. Without you, there would be no stories to write!
EVENT: Love's Landscapes
Wet Dreams and Adult Revelations on Goodreads
ePub | Mobi | PDF
Review Wet Dreams and Adult Revelations on Goodreads