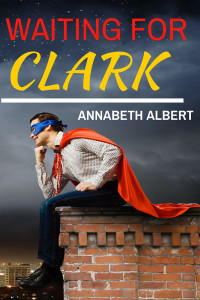 PHOTO DESCRIPTION:
In a cartoon drawing, Batman and Superman are locked in an embrace, kissing. Superman is taller and clutching Batman to him. Batman has more muscles and has visible tattoos on his arms. Superman has broader shoulders and dark hair. Batman is stretching up to meet him and has one foot kicked behind him. Behind them is a graffiti-covered wall, and Superman's rainbow-lined cape swirls around them. The prompter specified that the picture is two men in cosplay costumes at a Comic Con convention.
STORY LETTER:
Dear Author,
My friends and I love cosplay, and this year we're going all out for our city's con. Yup, we're going to go as members of the Justice League. I'm going as Batman, but I can't figure out who's going as a Superman. My friends are being a little cagey. What's going on? How did I go from not knowing who Superman is to making out with the guy?
Please no GFY or OFY. Both characters are out and proud (bisexual is cool too). Please make it at least HFN. No dubcon. Also both characters are close in age.
Sincerely,
Elci
STORY INFO:
Genre: contemporary
Tags: geeks/nerds, friends to lovers, reunion, crush, college friends, cuddling, frottage, cosplay
Word Count: 25,864
EVENT: Love is an Open Road
Waiting for Clark on Goodreads
Download links removed at the request of the author.

Review Waiting for Clark on Goodreads
At the request of the author, this story will

not

be included in the anthologies.