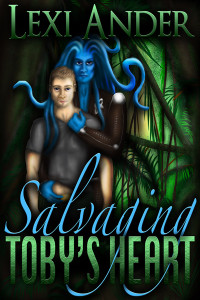 PHOTO DESCRIPTION:
In the background there are cryogenic-containers with shadowy figures inside. In the forefront is a large, muscular blue male with a headful of very long, slender tentacles ending in cockheads. He is holding a brown-haired, sculpted human man whom he's having sex with. The man's shirt is torn, the remnants held in place by a shoulder holster. A firearm is in his right hand, as if he's expecting someone to walk in on them.
STORY LETTER:
Dear Author,
It was supposed to be basic find and retrieve job even if the planet was little known and in the edge of the territories. Nothing went right with that job. My ship got damaged on the landing, there is nothing but jungle out here and I have no idea where the thing I'm looking for could even be and now I have apparently found the natives too. I so don't need any more distractions but he sure knows how to get persuasive with those hairs of his.
I would like this to be a sci-fi adventure story. There can be some dub-con but in the end it's about falling in love with his alien.
No BDSM, but otherwise I'm not too particular about the content.
Sincerely,
Eepa
STORY INFO:
Genre: science fiction
Tags: military men, spacemen/aliens, interspecies, attempted child abduction, illegal lab experimentation, tentacle fetish, public sex
Content Warnings: this is a light-hearted smexy tentacle story, not a dubcon ^_^
Word Count: 33,623
EVENT: Love is an Open Road
Salvaging Toby's Heart on Goodreads (NSFW)
ePub | Mobi | PDF
Review Salvaging Toby's Heart on Goodreads