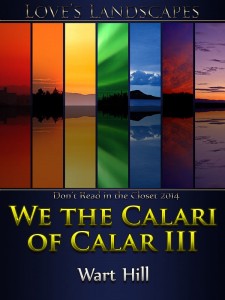 PHOTO DESCRIPTION:
A naked man is in a bare room in a spaceship. He is being held up by tentacles coming down from above. They are pleasuring him as well as supporting him.
STORY LETTER:
Dear Author,
Tentacles. Any creature with tentacles is a desirable creature. Those arms can go anywhere, feeling, grasping, sucking, soft, moist. This was at least what I believed before I met X, who claimed me as his before I even knew I had to leave my homeland and settle in his family's vast, wet land. His species claimed one man from my species every ten years, the joining of a man with tentacles and a human man resulted in peace between the two as the birth of a much longed for hybrid might be the result of the union.
I did as I was told. My family sent me off with great joy, it was a tremendous honor. I was scared, and when X pulled me into his arms, all eight of them, I knew that I would do anything, just anything, to avoid mating with this creature.

This story may contain non-consent, otherworldly experiences, deep, slimy penetration and, believe it or not, definitely a happy ending!

Sincerely,
Favory
STORY INFO:
Genre: science fiction
Tags: farming, spacemen/aliens, interspecies, dubious consent, tentacle sex
Content Warnings: forced marriage, dubious consent, tentacle sex
Word Count: 5,595
Acknowledgements
+ Thank you to the moderators of the M/M Romance Group for hosting this event and doing such a great job organizing it, and thank you to the volunteers who made it possible.
+ Thank you to Favory for the intriguing prompt, I hope you like where I've gone with it.
+ A thousand thank yous to my noodnik, Gaelyn, for her edits and for reading this over. And thanks to Jackson for giving it a look.
EVENT: Love's Landscapes
We the Calari of Calar III on Goodreads (NSFW)
ePub | Mobi | PDF
Review We the Calari of Calar III on Goodreads