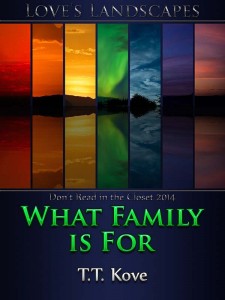 PHOTO DESCRIPTION: 
Two men holding hands.
STORY LETTER:
The picture shows Tim and Connor as they are standing outside an airport somewhere in Nebraska, waiting for Connor's family to pick them up and drive them to Connor's family home.
Dear Author,

We live in New York City where Connor and I met four years ago. My parents still reside in the same Brooklyn brownstone where I grew up and we often go there to help out with gardening or repairs on the house since my Mom and Dad are getting older and can't cope like they used to. Connor loves my family. I know the feeling is mutual; my parents love him as their own son.
Somehow we've never come around to meeting his family. I know very little about them. According to Connor, the small town in Nebraska where he grew up is the ugliest town east of Hooker County, and when I suggested we should go see them on our next vacation, he was very persistent saying there were absolutely no reasons for us to go there.
I asked him if he didn't miss his folks. If maybe his parents would like to meet me, the guy their son married one month after it was declared legal in New York. But he just laughed.
"I'm proud of you baby, never doubt that, but you have no idea what my family's like. You don't want to go there if you don't have to. There's Cousin Albert who thinks the microwave was invented by the Russians to spy on him, and Aunt May who hasn't left her house for twenty years, and angry Uncle Donald who says he will kick any democrat in the balls, and Uncle Stephen who considers Nebraska made the biggest mistake ever when the state repealed all sodomy laws in 1977, and he's not hesitating to tell anyone who cares to listen. And they all live in the same town, total population 287 people, it's like a bee's nest. I got out of there as soon as I turned eighteen, and you won't miss them either. Trust me."
I had a hard time believing parents weren't important.
"But what about your parents?"
"They're not so bad. They claim to have accepted I'm gay, but they won't ever understand why I choose to live with you, or any man for that matter. Tim, please, let's forget about them. I'd prefer to live my life here and now, with you."
And there was the end of the discussion. We did fine with letting my family be his, too. Everybody needs a family of some kind.
But one Saturday morning in March when I was lounging on the couch, Connor rushed into our living room, stopped and stared at me.
"What's the matter?" I asked and put down the book I was reading.
"My brother called." He looked clearly distressed.
"You have a brother?" I asked surprised. Four years and he never told me?
"Yeah," he said. "Tim, you and I are going to Nebraska. Dad died last night."
Connor almost fell down on the couch, landing heavily beside me; I had never seen him this frustrated, he was always so cool and… 
"Shit!" he cried out. "Why the hell couldn't they have told me he was ill?"
I was in shock.
Dear Author― I grew up in New York in a loving accepting home, I have no idea what to expect when we arrive in Nebraska. I've known Connor for four years, still I might get to see a whole new side of him and I'm not sure if it scares me or not. And something must have happened with his brother that is so bad he won't even talk about him.
The only thing I do know is that I stand by Connor no matter what. That's what family is for, right? 

Sincerely,

Amelia
STORY INFO:
Genre: contemporary
Tags: death of family member, established couples, family drama, homophobia, hurt/comfort, sweet/no sex
Word Count: 6,915
EVENT: Love's Landscapes
What Family Is For on Goodreads
ePub | Mobi | PDF
Review What Family Is For on Goodreads