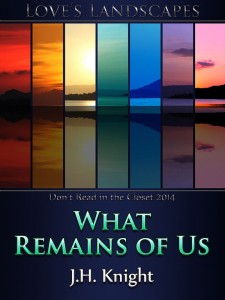 PHOTO DESCRIPTION:
Two men in early 20th century clothing are standing outdoors together. One has his arm around the other's shoulder and he's tweaking his mustache.

See the photo here
STORY LETTER:
Dear Author,

It's been a year since the earthquake. With San Francisco burning around us, we were sure we'd lost everything. With nothing left to lose, we turned to each other. The world didn't end that day after all, and we've lived every day since rebuilding― together. We're finally ready to tell our story.
Please make the story as sweet or as sexy as feels authentic to you, and feel free to get as history-geeky as you like.
Sincerely,

Vanessa

STORY INFO:
Genre: historical
Tags: drama, hurt/comfort, in the closet, natural disaster, family
Word Count: 15,743
EVENT: Love's Landscapes
What Remains of Us on Goodreads
ePub | Mobi | PDF
Review What Remains of Us on Goodreads