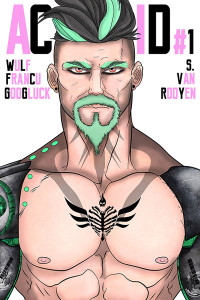 PHOTO DESCRIPTION:
A man with bionic mechanical arms sits in a dusky room holding a cigarette between his robotic fingers. A shot glass with amber liquid in his right hand. Faded scars and wounds cover his collar bone and abdomen; he stares at nothing, obviously bored with the world he lives in.
STORY LETTER:
Dear Author,
This is obviously a real tough guy – he likes his guns, booze and cigarettes. His new robo arms are pretty damn awesome, even if the story of how he lost his normal arms isn't pretty and it took a long time to get used to the new ones. He's a man of action, not words, and you'll never hear him spout sappy declarations of endless love. The love of his life clearly needs to be just as tough to keep up with him.
Basically, I want a story with this tough guy and his equally tough love interest(s). Romance shouldn't be the main focus of this story, I want a kick-ass plot with at least a bit of world building, please! Established couple or not, ménage or not and the genre is up to you. Kinky sex would be a huge plus, but only if you can work it into the plot. I'm fine with whatever ending works for the story, I don't need a HEA. Every shade of consent is fine by me. Kink-wise I'm pretty much open to anything, even extreme stuff like med-kink and sounding.
Please NO: GFY/OFY, cross dressing/feminization/trans*, scat, watersports, diabetes-inducing fluffiness, puppy play, PWP, tentacles, torture porn, mpreg
Thank you so much,
Free_Dreamer
STORY INFO:
Genre: science fiction, horror
Tags: revenge, slaves, dystopian, genetic mutations, dark, cliff-hanger
Content Warnings: cannibalism, premastication, rape, forced pregnancy and childbirth (only mentioned), gore, extreme violence and murder, no HEA/HFN, and swearing (It's Wulf Francú Godgluck; what else did you expect?)
Word Count: 25,244
Dedication
To the MM Romance Group for being such awesome people and once again holding one of the biggest events on Goodreads. Thank you for your support, time and dedication to this.
To S. van Rooyen for being there in my time of need and helping make this one of the most screwed-up stories I have ever been a part of.
To Debbie Smith for helping out and pep talking me during the times I wanted to give up. I know this one freaked you out but thank you.
To K.C. Wells for helping out in a desperate time of need on very short notice and listening to me bitch about nothing.
To my sweet Alexis Woods, know you wanted to give up on me and really don't like Vex but thank you for helping out beta reading and fixing my same mistakes.
To my editor, Ali, thank you for being you and being so incredibly amazing to work with, it's such a joy doing the edits with you. I didn't even need a bottle of wine to help me.
To Wulf, thank you for letting me fuck with your characters… again… still, and allowing me playtime with Winter and Nirvana and seeing my gore-infested dreams come to life. Love you, S.
Thank You
To Free_Dreamer, may you be taken away to a world far darker than ours, I hope you enjoy these charters however fucked-up they may be.
Playlist
"Gun." – My Chemical Romance [The brave surviving heroes of war, those left amputated, disabled, disfigured and mentally and emotionally damaged by its devastating toll.]
"Ghost Town" – Adam Lambert [Those who were left behind, their hearts nothing but a ghost town of pain, anger and regret to the love they've lost.]
"Ghosttown" – Madonna [No matter what we lose; power, civilization, technology, money, light―in the end, when the dark's cold teeth sink into our flesh, we only truly have one another to keep us warm. Our humanity is the only thing we can trust.]
"The Dead Girl Epilogue" – I Am Ghost [The rain (tears) can wash away our dirt (pain/sin/regrets), but only love can purify our hollow hearts.]
"Ghost Town" – Shiny Toy Guns [Do not let your past hollow you out. Keep fighting, striving, never back down and reach for hope however dim it might be.]
"With Arms Wide Open" – Creed [Accepting the mistakes we make, the journey we follow and trusting your heart.]
"Dead Inside" – Muse [There is no fear as great as facing oneself, for only we know our own weaknesses, understand how deep our darkness reach, terrified if the demons snitches us in and drowns us to become dead inside.]
"Candle in the Wind" – Elton John [We are just all candles in the wind, waiting for Death to blow us out.]
EVENT: Love is an Open Road
ACID on Goodreads
ePub | Mobi | PDF
Review ACID on Goodreads