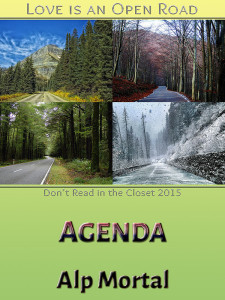 PHOTO DESCRIPTION:
In a modern office space, two young men are in the throes of a passionate kiss. One of the young men is smartly dressed and standing between the legs of the other young man, who is sitting on a table. The young man, who is sitting on the table, is naked save for the pair of briefs he is wearing, which are being pulled down.
STORY LETTER:
Dear Author,
For the last five years I've been his right hand man. I handle his schedule, I make his coffee, and I pick up his suits from the dry cleaner. I even make the arrangements for his hook ups with other men. The world sees a ruthless businessman, a cold bastard. But I know him. Behind the icy facade, I see HIM. The man who is meant to be my other half. Question is, when is he going to see ME? Not as his personal assistant, but as a lover, as a partner, as a man.
Thank you
Please only contemporary.
I would like a HEA and sex on-page, but the call is yours
Sincerely,
Eleftheria
STORY INFO:
Genre: contemporary
Tags: British, humorous, quirky, office, angst, rampant asshattery
Word Count: 14,784
EVENT: Love is an Open Road
Agenda on Goodreads (NSFW)
ePub | Mobi | PDF
Review Agenda on Goodreads