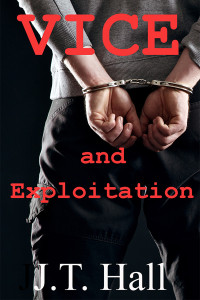 PHOTO DESCRIPTION:
There are three photos: one, in black-and-white, is an artsy-looking shot of a young man leaning against a wall, shirtless, and with his pants down low; the second shot shows a large, muscular guy with curly black hair and a Samoan sleeve tattoo, wearing a black vest, and grinning; and the third shot shows a shirtless man, his hair done up in a man bun, holding a cup of coffee, and looking mischievous.
STORY LETTER:
Dear Author,
I never expected the cops to bust in on my photoshoot! How was I supposed to know that the modeling agency was just a front for prostitution? I'm not a hooker! You'd think the two Vice cops would have better things to do than to keep shooting me glances. What is with all the smirks? It's not my fault they won't let me get dressed! What am I going to do now? Why do I get the feeling I'm not ready for what I read in their eyes?
Notes: Ménage please! Other than that I'm open to anything. Go where your muse insists you go! BDSM would be nice, but not a must.
Sincerely,
Calila
STORY INFO:
Genre: contemporary
Tags: poly mmm, law enforcement, model, BDSM, fetish/toys, switch/versatile, 2 alpha males, established couples, open relationship, undercover operation
Word Count: 23,551
Acknowledgements
Many thanks to A. L. for beta reading and editing! And thanks to Calila for the story prompt. This was a lot of fun to write. The boys are still chatting away in my head.
EVENT: Love is an Open Road
Vice and Exploitation on Goodreads
ePub | Mobi | PDF
Review Vice and Exploitation on Goodreads