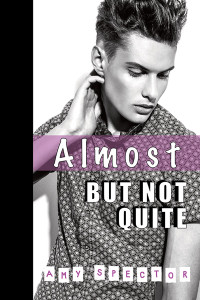 PHOTO DESCRIPTION:
A photograph of an attractive man is shot through a windowpane and between the pillars of an office building, as he stands in its lobby. He has short, wavy black hair and a closely trimmed mustache and beard. He is wearing a dark blue suit, a dark blue tie with a white dotted design, and a white-collared dress shirt. Head tilted down slightly, he listens to someone on the other end of a cell phone.
STORY LETTER:
Dear Author,
This is billionaire Max. I met him last year when I had hit rock bottom, I had nowhere else to go, no money, no job prospects, just a drug habit I picked up to help me cope with the horrible things that had happened to me since running away from my abusive home. They say when it rains it pours; well can you make the rain stop by bringing this ray of sunshine into my life?
I'm kind of going for a cinderfella feel here, hurt/comfort… I am uncomfortable with BDSM and don't particularly like paranormal or science fiction. The rest is up to you, even the name if you don't like Max.
Yours sincerely,
Michgee
STORY INFO:
Genre: contemporary
Tags: hurt/comfort, age gap, addiction drug/alcohol, slow burn/UST, cinderfella, family drama
Word Count: 24,728
Acknowledgements
My sincerest thanks to Al, Kristan, and Layla. You guys are truly the best. Thanks to the lovely Michgee for her great prompt and to Elizabetta and all the MM group volunteers that make all this possible.
Dedication
This story is dedicated to Jonathan. See? I didn't forget. You little shit.
EVENT: Love is an Open Road
Almost But Not Quite on Goodreads
ePub | Mobi | PDF
Review Almost But Not Quite on Goodreads