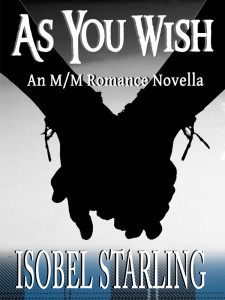 PHOTO DESCRIPTION:
Two men dressed in Ramsay Blue Tartan Highland dress are standing by the counter of a bar, captured in a celebratory photograph. The man on the left is in his twenties, blond cropped hair, boyish, tall and slender, athletic. The man on the right is older, say, his early thirties, dark hair with a brawnier physique. The older man has his hand on the younger man's shoulder, squeezing. He holds a tumbler of whisky and gazes mischievously at the younger man as if he has just said something provocative to him. The younger man is looking down coquettishly, his gaze avoiding the camera as he holds his own whisky tumbler to his lips.
STORY LETTER:
Dear Author,
This was me (on the right) at my brother's wedding. Two days before the wedding we met my brother's bride's family― including her handsome, smart, funny brother (on the left). Did I mention that he's funny? I was immediately smitten, even if I wouldn't have admitted it.
It took us some time (but not too long, please) to come together. Could have been family, friends, relationships, culture, one of us was straight (or thought he was), jobs, distance― whatever you see.
We're good with most any aspect for our story, but nothing too far afield (bodily functions, dubious consent, non-consent, etc.)
Thank you for your creativity.
Sincerely,
Melanie~~
STORY INFO:
Genre: contemporary
Tags: The Princess Bride, Scotsman, wedding, kilt, gay for you, first time, family, mild restraint, cock binding
Word Count: 45,011
Author's Note
The characters and events described in this book are fictional. Any resemblance between characters and any person, living or dead, is purely coincidental.
The mention of or reference to any companies, products or film reference to The Princess Bride(1987) and the book of the same name by William Goldman in these pages is not a challenge to the trademarks or copyrights.
Acknowledgements
Many thanks to Kasia Bacon-Buczkowska and Barb and the members of the M/M Romance Group's DRitC event team for editing and support. Thanks also to Em for beta reading.
EVENT: Love is an Open Road
As You Wish on Goodreads
This book is no longer available.
Review As You Wish on Goodreads