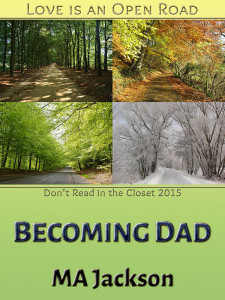 PHOTO DESCRIPTION:
A man, his broad, bare, and tattooed back facing the photographer, holds a small, sleeping newborn baby. Tiny hands and fingers stretch out across the man's shoulders, almost clutching a set of dog tags that rest over the old, scripted, inked word of "Family".
STORY LETTER:
Dear Author,
It's been seven months since I have been deployed. It's been nine months since we found our surrogate. So much has happened in so little time. It should be happening anytime now; our baby coming into the world. I hated leaving him to handle this alone. I should be home in three months. The baby will be here and I can finally meet him/her. Please tell our story?
Sincerely,
Reeeeelly
STORY INFO:
Genre: contemporary
Tags: military, men with children, established couples, homecoming/reunited, shower sex
Word Count: 5,418
Acknowledgements
To CC, KW, Al, DC, and all the others who helped make this story better; my heartfelt thanks and gratitude are given freely and without end. Reeeeelly, I hope you truly enjoy the tale I've spun for you.
EVENT: Love is an Open Road
Becoming Dad on Goodreads
ePub | Mobi | PDF
Review Becoming Dad on Goodreads