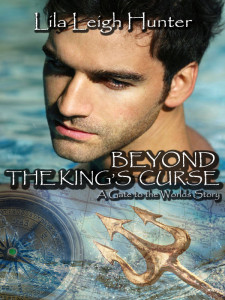 PHOTO DESCRIPTION:
A young merman seems to be floating calmly underwater― arms extended, eyes closed. His aquamarine tail is curved towards a golden coral formation. Sunlight is coming through the surface, shining on him like a spotlight.
STORY LETTER:
Dear Author,
Doesn't this merman look sad and lonely? Can you put a smile on his face?
Matthew Arnold's 1849 poem The Forsaken Merman tells the story of a merman whose human wife leaves him and their children to return to life on the surface. The haunting final lines of the poem are:
There dwells a loved one,
But cruel is she.
She left lonely for ever
The kings of the sea.
Perhaps the merman in your story is the same one from the poem; perhaps he is a different merman altogether. One thing is for certain: if mermaids keep falling in love with human men, as they do in fairy tales and princess movies, there are going to be a whole lot of single, lonely (and horny?) mermen left in the ocean.
What's a merman to do?
What will you write? My "favorite" would be a GFY, First-Time or Friends-to-Lovers type of story. But it's up to you! Sweet romance, kinky merman sex, ménage, MPREG, shifters, tentacle porn― all fine. My only requirement is that one MC be a merman and the other MC(s) be, if not mermen, at least non-human. And of course, a happy ending!
Sincerely,
Jane Harper
STORY INFO:
Genre: historical, alternate universe
Tags: 19th century, curse, family, first time, friends to lovers, HEA, merman, mershark, m-preg, royalty, soulmates/bonded
Word Count: 26,194
Acknowledgements
During the month of April, I had the opportunity to participate in CampNaNoWriMo with nine other authors. I want to thank my cabin mates for their encouragement during this process; especially Leah & Eric for their ever present support and feedback. Hope to see you all back in the cabin this July.
Also, I want to thank every volunteer making the DRitC event possible. From my beta, Samantha, to my editors (Averin & Astrid), proofreaders, QA, and formatters; your input and support made this experience worth it. And to all the authors/readers who took the time to offer their comments and suggestions in the event's threads, thank you.
EVENT: Love is an Open Road
Beyond the King's Curse on Goodreads
ePub | Mobi | PDF
Review Beyond the King's Curse on Goodreads