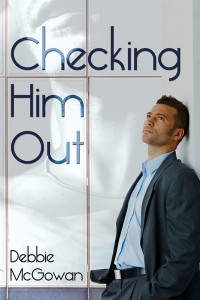 PHOTO DESCRIPTION:
Photo shows a ruggedly handsome, olive-skinned guy in his early to mid-thirties, with thick, short dark hair, deep dark eyes, broad angular features and heavy stubble on his lip and chin. He's wearing a suit jacket over an open-necked hoodie, dark hair visible on the bared V of his chest. His eyes are narrowed and looking straight into the camera; his index finger is pressed to his thick ruddy lips in mischievous, sultry warning.
STORY LETTER:
Dear Author,

When I met the love of my new life (his words not mine… ass), I was simply waiting in the checkout line. I might have been caught up in a conversation with my best friend/wife of X amount of years about something, I can't remember at the moment. So anyway, we were distracted and didn't notice that the line had moved. So after maybe 30 seconds, or a minute at the most (I'm pretty sure it wasn't that long), Mr. Impatient, with an accent like that character on The Originals (not that I watch that show at my age), got our attention in the rudest way in my opinion, or in my wife's heart-of-a-ho opinion, the kindest way possible for our insensitive asses. I'm pretty sure his accent, mixed with his damn charm, got him out of more trouble than it should. We had a rough start, but we had quiet moments when we weren't all over each other or fighting, in and out of bed. Anyway, I would love a story about our first year.
P.S. I want a story with interesting secondary characters interacting with the main characters. I want it to be known that the marriage is a *lavender marriage― no one is being fooled here. I want humor mixed in with hot-damn, slightly overwhelming sex. Alpha males with a bad case of the giggles at inappropriate moments. No BDSM please. One other request is that I wish the main characters to be in the age range of late twenties to early thirties.

*A lavender marriage is a "beard" marriage of convenience.

Sincerely,

T
STORY INFO:
Genre: contemporary
Tags: 2 alpha males, grief, homophobia, in the closet, lavender marriage, tearjerker, humorous 
Content Warnings: references to past murder/violent assault involving knives; mention of suicide
Word Count: 60,141
Acknowledgements
I am eternally indebted to my beta/proof readers:
Larry Benjamin, fabulous author and tough cookie, evidently seeking his revenge for our past editing bust-ups;
My old faithfuls, Nige and Trace;
K.C. Faelan, who fit/fitted in beta-reading and educated me along the way;
Shayla Mist, for making me feel amazing!
Rick Bettencourt, for all things Boston, and for not mocking/sharing an, um, eye for detail.

Thank you also to the M/M Romance Group in general, and the mods in particular, for your support, patience and humor. You are truly wonderful.

Finally, a huge thanks to Taya, for this brilliant and inspiring prompt, and your ongoing encouragement. I hope I have done it justice.
EVENT: Love's Landscapes
Checking Him Out on Goodreads
ePub | Mobi | PDF
Review Checking Him Out on Goodreads