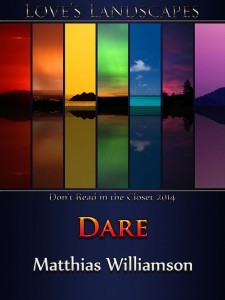 PHOTO DESCRIPTION:
One man is licking another man's face. The one being licked does not look like he approves.
STORY LETTER: 
Dear Author,

Guy #1 on left

"What is he DOING?! Just coz I'm the only gay guy on the team doesn't mean I want just ANYONE slobbering over me. Please. I have standards." 

Guy #2:

"I know it was a dare, but I couldn't help myself. I can't get him out of my head. He's just so damn… edible. I've never wanted to touch another guy. Ever. I think I'm going mad."
I'd like a bit of conflict between these two, perhaps with Guy #2 harbouring a secret crush on the known gay, Guy #1. Our gay guy picks up the signs, but remains unconvinced that his admirer is anything other than a complete douchebag. It takes a lot of persuasion before he will accept that Mr. Closet is serious— and the man of his dreams.
I'd love an enemies-to-lovers theme on this. Lots of tension, pining and delicious lust that slowly simmers, then explodes in a spectacular fashion. No paranormal, historical or shifters please— and a HEA or HFN. Thank you!
Smoochies 🙂

Anna
STORY INFO:
Genre: contemporary
Tags: college, rugby, rivals to lovers, asexual, drug use, first time, homophobia, HFN
Content Warnings: rape, watersports/non-consensual
Word Count: 15,014
Acknowledgements
Thank you to Jessa Ryan, Debbie McGowan, Ava Penn and Kaje Harper for your suggestions and dealing with my miserable grammar. I could not have done it without your help and support. Oh and to the wonderful Elizabetta who had to plod through my grammar and dialog tags… Thank you!
EVENT: Love's Landscapes
Dare on Goodreads
ePub | Mobi | PDF
Review Dare on Goodreads