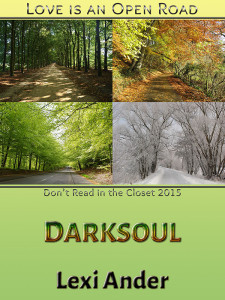 PHOTO DESCRIPTION:
A well-muscled young man lying face down on pristine white sheets. He's nude but the angle of the picture uses his body position to cover him. His fists are stacked on top of each other and his chin is resting there as he stares challengingly into the camera.
STORY LETTER:
Dear Author,
He was beautiful, I saw him from afar one day. He would suit me, I think. He is funny, kind, and sweet. But he is also stubborn, fighting me this way; he isn't ready to give in to me yet but I want him, I need him. He would complement my warrior personality. He will be mine, he is mine, mine to love and mine to protect.
Oh my God, his tail, the first time I saw him, his tail caught my attention. The way he uses it on me, caressing me. So hot. His eyes glowed as he stared at me, I shivered with lust. He took me from everything that I knew but his love for me is really all I could need.
Please, no BDSM or Historical romance, though spanking is strongly encouraged. Something with Aliens would fit perfectly (Sci-Fi and/or Fantasy a plus) and of course some hot ass-pounding sex. M-preg would be very interesting. HEA is always desirable. Would prefer no invasion-like scenarios, but I would instead like to see the governments working together to help this species find mates but if your creative juices flow the other direction I am alright with that. And please, Author, have fun with it.
Sincerely,
Christina
STORY INFO:
Genre: science fiction, fantasy
Tags: anthropomorphic cat/elf, nurse, warrior, spanking, interspecies mating, magick, hint at mpreg, political intrigue, HFN, secrets, versatile alpha male, royalty, smexy use of a tail
Content Warnings: cliffhanger, violence
Word Count: 44,897
Acknowledgements
Thank you, Christina, for writing such an excellent story prompt that wouldn't let me say no.
A wealth of gratitude to Jo, Andrea, and Caroline for your valuable feedback.
EVENT: Love is an Open Road
Darksoul: Part One on Goodreads (NSFW)
ePub | Mobi | PDF
Review Darksoul: Part One on Goodreads