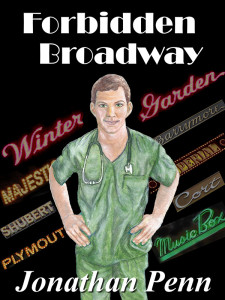 PHOTO DESCRIPTION:
Sunlit trees and foliage, seen through a large window, provide a bright backdrop for two men in a passionate embrace, kissing. They stand in shadows; much is left to the imagination. They appear to be youthful, physically fit, and very much in love.
STORY LETTER:
Dear Author,
Charlie lives for musicals. He has a good voice, better than most others, he can dance, and he knows almost any musical ever written by heart. Growing up in Hicksville, Nowhere, becoming a performing artist was never an option. So instead, after finishing nursing school, he moved to NYC where he is now a nurse, mostly working with providing private duty care, and attends evening classes at Ms. Barbers School for Song and Dance in Brooklyn twice a week.
Charlie is hired to take care of an elderly man living in a large Upper East Side apartment. The man's grandson― a tall, handsome, serious-minded businessman, much younger than he appears at first, and Charlie's absolute opposite― lectures Charlie that under no circumstances may he talk about the theatre business with his grandfather, as it is a sensitive subject and if he gets upset, it might worsen his condition rapidly. But the adorable Charlie, the man whose heart is full of song and dance, just can't shut up about his biggest interest. And― he is curious. The consequences, though, are not at all what the grandson expected, and his heart might just start singing and dancing too, after meeting Charlie.
I want to see Charlie turn the grandson into melting goo. Maybe there is some angst along the way, but Charlie's sweet nature puts an end to that. It's definitely an HEA-story.
Sincerely,
Amelia Mann
STORY INFO:
Genre: contemporary
Tags: family drama, nurse, businessman, celebrities, illness/disease, grief, hurt/comfort, age gap, flamboyant characters, humorous
Content Warnings: excessive speeds on a motorcycle
Word Count: 34,909
Dedication
Forbidden Broadway is dedicated to the memory of Alice Mooney, who set aside her dream of performing professionally to raise children and to nurture the talent of young aspiring performers, assisting them in realizing dreams of their own. The benefits of the love and kindness she invested in her family, her students, and so many others will be paid forward without end.
Acknowledgements
A raucous standing ovation for the dogged determination and tireless efforts of the moderators, editors, proofreaders, formatters, and quality assurance volunteers on the team for the 2015 Don't Read in the Closet event. Love is love, and your dedication to spreading it is heartwarming.
Then there's my beautiful Chorus Line: Ofelia Gränd, Kaje Harper, Kris Ripper, and Alexis Woods. As always, your high-kicks are visually stupendous. They're also highly effective when aimed at my butt.
This year's Special Tony Award for Outstanding Performance by a Newcomer goes to Kat Tucker, RN, for her role in verifying Charlie's nursing credentials.
I would be remiss were I not to gesture toward the orchestra pit, calling your attention to my indefatigable maestro. Debbie McGowan, you never cease to amaze me! Polishing all the rough edges off my work may be your job, but all the ways you enrich my life? Well, that's just icing on the cake.
And before the curtain falls, a solo bow for Amelia Mann. When I first saw the prompt you'd concocted, I couldn't believe my eyes. I had to read it three times before it sank in that this is the story I was born to write. Thank you for the opportunity!
EVENT: Love is an Open Road
Forbidden Broadway on Goodreads
ePub | Mobi | PDF
Review Forbidden Broadway on Goodreads