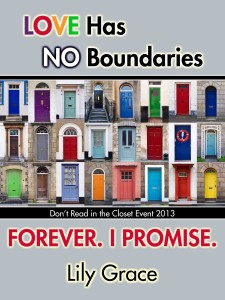 PHOTO DESCRIPTION:
Two teenage boys cuddle outside. One is leaning back against the other's chest and they're smiling at each other like nothing else exists in the world.
STORY LETTER:
Dear Author,
People always tell me that the chance of finding your true love in high school is pretty slim. Well thank god then that I didn't meet Patrick in high school; that's just the time I fell in love with him. We actually met the day we were born, our mothers going in labour the exact same day and us being born just minutes apart from each other. We grew up together, always being at each other's side, no matter what. So why are people so shocked about us falling in love? Why are they telling us that for us to be close is great but for us to love each other is wrong?
But all this doesn't matter, because no matter what our families may think, I am never letting him go. I simply cannot live without him and I certainly don't want to. So even if everybody will turn on us, we'll be good, because we have each other.
Sincerely,
Little.dhampir
STORY INFO:
Genre: contemporary, young adult
Tags: high school, first time, friends to lovers, young adult characters, bullying, coming out, homophobia
Content warnings: sex between two minors (both seventeen years old)
Word count: 29,806
Forever. I Promise. on Goodreads

PDF | Mobi | ePub
Review Forever. I Promise. on Goodreads