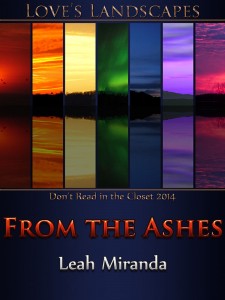 PHOTO DESCRIPTION:
Two men sit on the wet ground, at the bottom of a ravine, with smiles on their faces. One man is leaning against the other while they hold hands, their arms outstretched as if they are about to take flight. They look happy and worry-free, and completely at ease with each other.
STORY LETTER:
Dear Author,
Insecure, self-conscious, shy, geeky, clumsy. In other words a walking disaster.
It is the only way I could describe myself. My past boyfriends didn't help any with their constant criticism and belittling comments about my person.
So you can't be really surprised that I have given up finding my knight in shining armour.
But I have never taken into consideration the one beautiful man, who is so far out of my league that it is not even funny. He became the only source of my self-esteem.
But when he started acting suspicious all my insecurities came back full force.
Please give us a HEA. I love him too much to lose him because of a misunderstanding.
***No cheating, threesome or BDSM. Otherwise, get as creative as you like***
Sincerely,
Mrzorochan
STORY INFO:
Genre: contemporary
Tags: friends to lovers, sweet/no sex, anxiety disorder, humorous, businessmen/lawyers, writers
Word Count: 17,178
Acknowledgements
Thanks to Gillian, Debbie, Ren and Shayla for taking the time to help me whip my story into shape. To the wonderful LL Author's Support Group, for their encouragement, support, and humor (because sometimes all you need is a good laugh to get you through a rough writing spot). Last but not least, to my family for all the love, tears, and laughter we've shared in good times and bad. You guys make every day worth living.
EVENT: Love's Landscapes
From the Ashes on Goodreads
ePub | Mobi | PDF
Review From the Ashes on Goodreads